Dunlop Easy Clean Epoxy Grout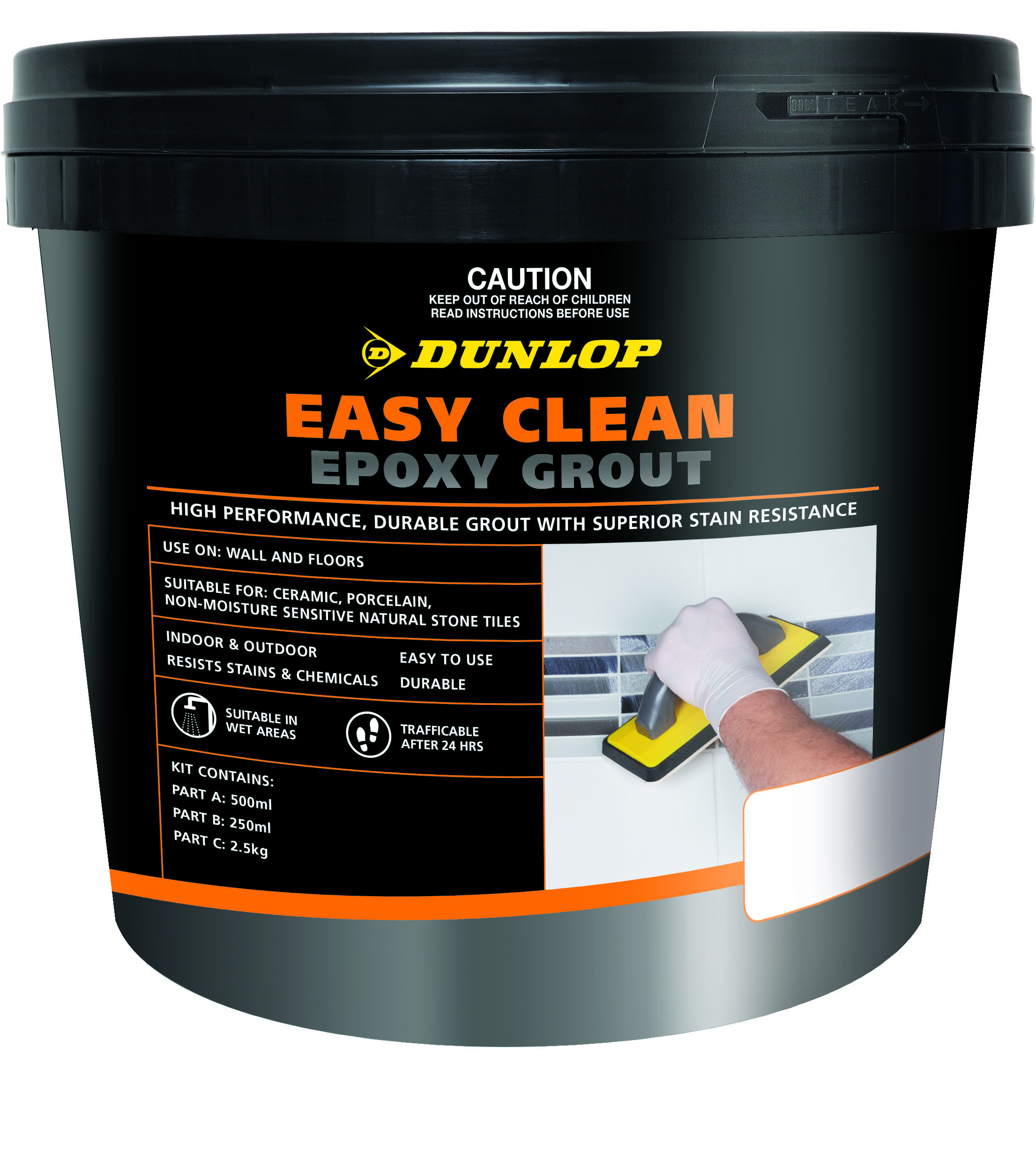 ---
---
A high performance, durable grout which has superior stain resistance and is able to resist most household chemicals. It is easy to use and clean during application and also easy to maintain. This grout contains Grout Shield which is a powerful mould inhibitor that will resist the growth of mould and bacteria to keep surfaces looking better for longer.
Durable
Resists stains and chemicals
Easy to clean, use and maintain
Contains Grout Shield – Anti Mould and Anti Bacteria Technology
Joints width: 1.5-15mm
Available in a range of colours
Tile Types
Ceramic, porcelain, non-moisture sensitive natural stone, vitrified, mosaics
Surfaces
Walls and floors
Location
Indoors and outdoors
Colour & Sizes
| | | |
| --- | --- | --- |
| Colour | Size | Item Code |
| White | 3.25kg kit | 24163 |
| Slate Grey | 3.25kg kit | 24165 |
Joint Width
1.5-15mm
Coverage
Tile Size

Joint Width

(L x W x Depth)
1.5mm
3mm
5mm
10mm
15mm
25 x 25 x 4mm
4m2
2m2
1.3m2
0.6m2
0.4m2
100 x 100 x 8mm
8m2
4m2
2.5m2
1.3m2
0.8m2
200 x 200 x 8mm
17m2
8m2
5m2
2.5m2
1.6m2
600 x 600 x 10mm
40m2
20m2
12m2
6m2
4m2
*NOTE: All coverage tables show approximate coverage in kilograms per square metre. A 15% wastage allowance has been included due to varying application techniques, tile types and job site variations.